I know you will be blown away by the amount of internet marketing services we offer but the truth is that the person or company you hire should be well versed in most things internet related. We like to think of ourselves as a one stop shop for all your online marketing needs and desires.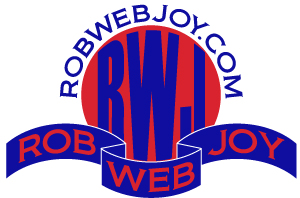 Basic Website Creation
Our basic website creation service is for those who already have website content. This is our most basic package, it includes 1 domain name with privacy protection, 1 SSL Certificate which makes your website secure and ready to do business, 1 year of shared C Panel hosting on a United States IP address and 1 WordPress installation. WordPress is a user friendly content management system that makes it easy for non techie individuals or businesses to manage their own website without knowing complicated HTML, CSS or PHP code. We are currently offering a special on our basic website set-up service. You can purchase the aforementioned offer for a low price of $120, for a limited time. Please note domain names, hosting and SSL Certificates must be renewed annually.
Live Video Streaming Service
Rob Web Joy dot com offers a very unique and effective live video streaming service. I'm sure you're wondering what in the world live streaming video has to do with your product or service. Live streaming is a tactic employed by seasoned internet marketers. Now you can use the power of going live on Facebook or streaming live to YouTube without having to be live.
It may sound weird but we have harnessed the power of live streaming your prerecorded video. This service includes live streaming to YouTube or Facebook (if you have a Facebook page for your business or service), one video description created by transcribing the audio from your video and one custom thumbnail. The introductory price of our live streaming video service is $150.
Advanced Website Service
This website package includes content that will be written specifically for your business or niche selection. The smallest advanced website package we offer is for 3 website pages one of which will be a contact us form. You can purchase this package for $120 plus $150 per website page created. In this case of a 3 page website your cost would be $570.
Business Listings and Citation Service
Rob Web Joy dot com can create Facebook pages or a Facebook places page for your business. In all honesty a Facebook page would probably be better than a places page but we are aware there are differences.
We can also help you create or claim your Google My Business listing and Bing Places listing. Having your business show up in Google search results in the form of a map listing can be a very lucrative endeavor. Chances are your business phone will ring like never before.
PPC Ad Management
Search engine pay per click advertising. I say search engine because there is more than one which also means there is more than one advertising interface we must be familiar with. You are welcome to choose your advertising platform. You can choose either Google adwords, Bing ppc ads, Facebook ads or YouTube ads or any combination thereof.
Search Engine Optimization
Search engine optimization is about validating your entity online and doing everything you can to display relevancy and credibility. People act like SEO has changed so much over the years. What has changed most is the search engines desire for credible businesses to rank instead of someone with an exact match domain or someone who has spammed their way to the top.
Things like not over optimizing anchor text, site speed and having a SSL Certificate matter more today than ever before and all of these examples are just pieces of the overall SEO puzzle. It's important to understand that there is not a one size fits all approach to search engine optimization and it should not be treated as such!