Hey everyone, Rob here with Rob Web Joy dot com. In this post I will provide six valuable tips that are guaranteed to help freelancers maximize their income by getting more work and exposure.
Before I begin I want to emphasize that the tips within this post apply to anyone and everyone including local businesses.
I am going to show you some great ways to get your business in front of local buyers.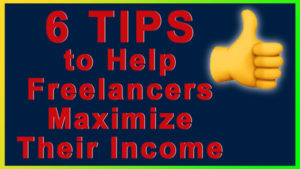 This is a great time to release this information as we speed steadily toward the end of 2018 and simultaneously toward the beginning of 2019. Let me start by wishing you all a Merry Christmas and Happy Holidays.
Tip 1
I probably don't need to say this because it should be obvious but I want to think about everyone who may read this post or watch this video in the future. So the first tip is to get your offer in front of as many people (theoretically) as possible by making your offer available on all the big freelance websites!
The downside of being a seller on freelance websites is, you will not receive your full sales price because these freelance platforms take a percentage of your earnings and you will not receive your money immediately in most cases.
Be sure and perform your own research!
The aforementioned inconveniences are all the more reason to take full advantage of the free tools we will be discussing in this video.
Tip 2
Get your name out in your local area. It's hard to chew with a lot of food in your mouth, and that's kind of the way I look at promoting your business. Focus on your local area first and then expand your reach. Use Google trends to see what location searches most often for your service.
That being said, expanding your local reach can be accomplished in many ways but the first way that comes to mind for me is to create a free Google Business listing. Formerly known as Google My Business, Google Business listings are pro bono and very powerful for local marketing.
I offer a Google Business listing set up service for those who don't have the time or desire to set up their own listing.
If you do choose to set up your own listing then I would recommend familiarizing yourself with the categories of business that are available to you.
You will need some basic things to verify your business listing. The primary things you will need are images such as a logo, information about your business, hours of operation and other typical information. The more detailed information you can provide the easier it will be to confirm and verify your listing.
You also get access to a free business website through your free Google Business listing which can save you time and money if you choose not to create your own website.
Unsure what to name your business? Why not try something like Video Editing by John Smith or John Smith's video editing services. I have heard mixed recommendations about whether you should or should not include keywords within your business listing name. You may want to experiment with this and if you are ever questioned about it just say that you included a keyword phrase just to clarify and emphasize your value proposition.
Tip 3
Set up your free Bing Places listing. Make sure you use the same business name for this listing as you did your Google Business listing. Bing now gives the option to import information from your Google Business listing which is super helpful.
Tip 4
Buy your own domain name and create a website that you have full editorial control over.
I say this for a few reasons. The first reason is because it helps protect your brand, gives you more control, and provides you the opportunity of setting up a professional looking business email address using a either a free GMail account or paid Google Cloud gmail account.
You can get a domain name with free privacy protection for life on applicable TLD extensions.
The idea behind owning your own website and domain is to maximize control and revenue by not having to share your income with a website that is going to charge you a certain percentage just for selling your service on their platform.
So in theory this strategy will help you get more exposure in your local area and help you keep more of the money you make.
Tip 5
Consider advertising. You can use Google or Bing pay per click ads, Facebook ads, YouTube ads or a combination of all of them. I know a lot of you might not like the idea of paying for advertising but the cost of local advertising is usually much more cost effective than national campaigns, especially if you get your targeting laser focused by using exact match keywords or specific appropriate demographics for your ads.
Tip 6
Use analytics or some form of pixel for audience re-targeting. You may not sell people on your service the first time around but it's important to know who is visiting your website and interacting with your content. These folks represent potential sales in the future which may lead to referrals which are undoubtedly the most powerful form of advertising there is.
Video Resource Guide
Get your own domain, website hosting and SSL certificates
Master Your Domain
Freelance Websites
Recommended Reading